On the Front Line: Long-Term Care Ombudsmen
March 31, 2020

|

By Mary Day

|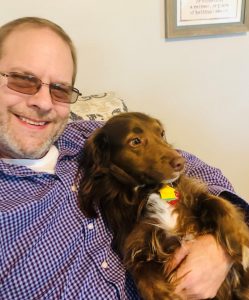 Like our other staff, Jimmy is working from home. If you get a call from Jimmy, you may notice his assistant, Shorty, who participates in virtual visits with nursing home residents via FaceTime.
What happens on a virtual visit?
"I set up calls with the administrators and discuss our role amid the crisis," says Jimmy. "Although it is not a regular visit, I still am able to see staff engagement as well as the general milieu of the facility based on talking to 4-6 residents total. In many circumstances I am able to make people smile and Shorty, my dog, even likes to be engaged and gets people smiling. It doesn't occur on every call but he has been helpful. I usually have no problem breaking social barriers but in some instances my dog gives that added push to help someone engage."
While nursing homes are not able to allow most visitors at this time, if your immediate relative is near the end of life a visit may be permitted. Do you have a question or concern about a nursing home, assisted living community or home care?