Ombudsman volunteers help to educate residents about their rights, empowering them to become more vocal in resolving their own complaints and concerns.  Volunteers equip residents – and their families – to voice questions and concerns about care and services to the appropriate department or staff person who can investigate and work to resolve the issue.  This is important for reducing the isolation and loneliness many residents feel who may have no one to speak on their behalf.
Join us as a volunteer to help seniors understand how to get the assistance they need and exercise their rights, or consider helping by making presentations, outreach activities, or follow-up. You will receive training and support from Pro Seniors' staff.  Hours are flexible and convenient.
How Do Volunteers Make a Difference?
Why Intern with Pro Seniors' LTC Ombudsman Team?
 Why I Volunteer as an Ombudsman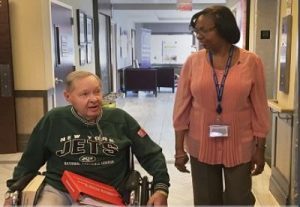 What Does a Long-Term Care Ombudsman Volunteer Do?
Assist ombudsman professionals in resolving complex problems in long-term care settings
Follow up with residents to make sure that their problems remain resolved
Work with residents and families to resolve other basic concerns
Enjoy visiting with residents and families!
One of our volunteers was interviewed about her experience – learn more about Carol's experience here.
"Without our ombudsman . . . I think we would still be attempting to get someone to listen.  Please commend her for speaking up for Bob.  She explained our concerns very well."
What Are the Requirements?
• Pass a criminal background check
• Complete 16 hours of classroom training, 10 hours of homework, and shadow a staff ombudsman for 10 hours.
• Pass the certification exam from the Office of the State Long-Term Care Ombudsman
• Invest 4 hours per month in contacting residents in a nearby nursing home or assisted living community
• Make a commitment to serve for at least 1 year
Choose the 2024 training series that works for you.
January 9 – 11:  9AM – 3PM
April 16 – 18: 9AM – 3PM
August 13 – 15: 9AM – 3PM
October 15-17: 9AM – 3PM
After completing all 16 hours of the classroom training, volunteer candidates will shadow a staff ombudsman in the field for an additional 10 hours.
Get started right away!
Please complete the online application below to get started, and contact Nick Stockburger with any questions at 513-458-5514.
Start Here - Apply to Become a Volunteer Long-Term Care Ombudsman
Volunteering starts with completing the application below.  If you prefer, please contact Nick at OmbVol@proseniors.org to learn more or to request an application by mail.
I Can't Volunteer Right Now - How Else Can I Help?
Help raise awareness of our available services. Share this invitation on your social media, Like and Follow us, invite us to give a presentation to your book club or other group, and tell your friends – most people learn from a friend that our help is available.
Give a financial gift to support Pro Seniors' advocacy for Ohio seniors.
Find more ideas of how to support Pro Seniors throughout the year on our Give Now page.