Seniors Who Rock 2016 Did Rock!
August 25, 2016

|

By Mary Day

|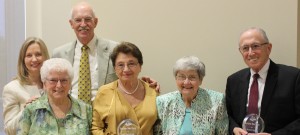 They didn't need guitars or drums to rock. Pro Seniors' 2016 Seniors Who Rock honorees were truly amazing on their own.  Over 200 people gathered at Cooper Creek on August 24th to honor Sr. Kathryn Ann Connelly, Lilly Narusevich, the Honorable Walter H. Rice, Jim Scott, and Dee Shaffer.  Each of the honorees was asked to speak about a quote that inspires them and keeps them rocking.
Sr. Kathryn Ann Connelly, an educator for over 40 years, was the first female Superintendent of the Catholic Schools of the Archdiocese of Cincinnati, a position she held for 18 years.  Today, she is actively involved in Education Matters and Community Matters in Lower Price Hill.  Quoting Psalm 117, "Go out and tell the world the good news," Sr. Kathryn Ann showed how her years as a teacher helped her do that.  She urged the crowd, "Believe me, the good news is out there, and we all need to learn and tell about it."
Lilly Narusevich coordinated the refugee resettlement program at Jewish Family Service and continues to volunteer and advocate for refugees and Holocaust survivors.  She stressed that "it is never too late to learn."  She used her work with the Bhutanese refugee community to show how she learned about people and herself as she taught citizenship skills.  When she retired, she continued teaching English as a Second Language because she wanted "to keep seniors active in their lives."
Jim Scott has not only been the voice of radio in the tristate for over 40 years, providing a soundtrack to Cincinnatians' lives on WLW, he has also been dedicated to our community, helping to found the March of Dimes Walk.  Throughout his career, he wanted to use his role on the radio to give recognition to people. In typical Scott style, he shared details about audience members, whom he had just met and talked with during the cocktail hour, and showed how special that recognition is.
Dee Shaffer works for Clever Crazes for Kids and is an extremely active community volunteer, after a 34-year career as the Senior Vice-President of Finance and Administration at Cincinnati's PBS Television Station CET.  She urged the crowd: "love what you do and get 'er done!"  Born in West Virginia, Shaffer wanted to be a radio engineer, which led her to WCET.  She said, "I spent the next 34 years getting 'er done, first as a volunteer, then as a part-timer, then full-timer, then as an all-the-timer, and then back to being a volunteer after retiring."  She closed by telling the audience: "I encourage all to think about the not-for-profits you love, the time and talent you have to contribute to them, and ask what you can do to use your skills to get 'er done for these wonderful organizations."
The Honorable Walter H. Rice, judge of the United States District Court for the Southern District of Ohio, had court before the event – of course! – so he was our last speaker.  He helped found and continues to serve the Greater Dayton Volunteer Lawyers Project, so in praising Pro Seniors, he begged the question, "What good is the greatest judicial system in the world when not everyone has access to it?"  Judge Rice then quoted a passage of scripture that guides how he has approached his role as a judge throughout his career, striving "(t)o act justly and to love mercy and to walk humbly with your God."  With humor and personal stories, he showed how much he loves the law and how he feels he has much more to accomplish in life.
Emcee Jim Yunker of The Yunker Group said, "Wow.  Just wow," after all of the honorees had talked.  All of the honorees were engaging and inspiring, showing that we don't have to stop accomplishing great deeds or making a difference after turning 70 years old.