Pro Seniors Honors Four Seniors Who Rock
August 24, 2017

|

By Mary Day

|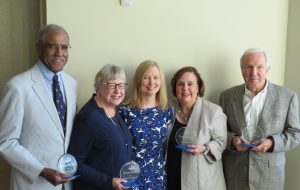 Thank you to everyone who joined us Cooper Creek on August 23rd to celebrate our four Seniors Who Rock: Kathleen M. Brinkman, Alvin Crawford, MD, Marilyn Harris, and Ronald Pfleghaar.  And a big thank you to BB&T Bank for sponsoring the event!
Brinkman is a former Assistant United States Attorney for the Southern District of Ohio and Of Counsel at Porter Wright. Crawford is past president of the Scoliosis Research Society, founding director of the Crawford Spine Center, and Professor Emeritus Pediatrics and Spine at the University of Cincinnati College of Medicine.  Harris is the radio show host of "Cooking with Marilyn," journalist, cooking teacher, and author of three cookbooks.  Pfleghaar is a long-time insurance agent and a dedicated, full-time community volunteer.
Over 200 people gathered to hear the honorees talk about a quote that has inspired them.  One honoree talked about family; one about living in Cincinnati; one showed the crowd his dance moves.  All of them were truly inspirational.
Please visit our Facebook page for lots of pictures from the event.
The proceeds from the event help fund Pro Seniors' Legal Hotline, which provides free legal advice to any Ohioan who is 60 or older.