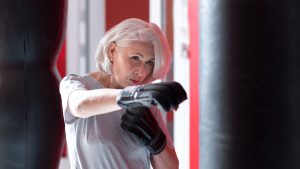 Become A Fraud Fighter​
The Senior Medicare Patrol (SMP) program provides an opportunity for seniors to step up and make an impact in the fight against fraud. Our Fraud Fighter volunteers help empower Ohioans against Medicare fraud and work to ensure that the Medicare program will be protected now and for generations to come. In 2020, the nationwide SMP projects had a total of 5,720 total active team members who helped contribute to the reported $16.8 million in expected Medicare recoveries from fraud.
What Our Fraud Fighters Do
Our team will match your skills and interests to the needs of our program. There are many creative ways SMP volunteers can serve Medicare beneficiaries, their families, and caregivers while making friends and learning new skills.​
Here is how you can help us in Ohio:​
Distribute Information – help with distributing SMP information to meetings and events. This may include presenting prepared scripted activities for small groups.​
Staff Exhibits – help by staffing information kiosks or exhibits at local events such as health fairs and senior center activities; also may provide general information about SMP to the public and answer basic questions.​
Make Group Presentations – help by giving presentations on SMP topics to small and large groups; you may also interact with the audience through discussion and by answering questions.​
Counsel – represent SMP in your community by sharing information and offering additional resources to resolve potential fraud and scam issues.​
Volunteer Information ​
After completing the volunteer contact form, we will call you to get to know you and talk about your interests. ​
Our volunteers have opportunities to learn new skills, meet new people, and gain knowledge about Medicare.  ​
We have a comprehensive training program so you always feel confident representing the Senior Medicare Patrol.​
Our opportunities are flexible and we will always work within your schedule.​
Volunteers are reimbursed for any travel costs or costs associated with volunteering with our program.​
We have monthly zoom calls to share information, get to know each other, and learn.​
We have an annual Volunteer Appreciation Celebration every fall!  Join us and join the fun!
Note: All volunteer applicants must complete a state and/or federal background check. ​
​
"All too often I read about exploitation of the elderly in the news.  Makes me angry.  And volunteering for SMP (and OSHIIP) is just my way of helping."​
~Ron, Ohio SMP Volunteer/Peer Educator