Veterans Legal Assistance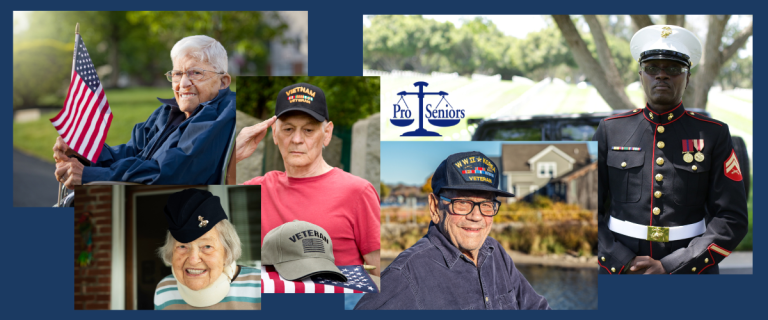 Low-income veterans in Ohio who are 60 or older, face a lot of obstacles to getting good legal  representation. 
Pro Seniors can help connect veterans to an attorney for legal assistance.
Pro Seniors' Legal Helpline provides free legal information, advice, and referral for residents of Ohio age 60 and over, regardless of income or resources.  Eligible callers may schedule a 30-minute telephone appointment for a Pro Seniors Helpline Attorney to call. The helpline attorney may refer a client to a Pro Seniors' staff attorney or to an outside attorney. Clients with low income may be offered a reduced rate by an outside attorney.
If you are a veteran age 60 or over, and living in Butler, Clermont, Clinton, Hamilton or Warren County, our legal helpline may refer you to in-house staff for full legal representation. To access the legal helpline, call 1-513-345-4160 or 1-800-488-6070.
Contacting Pro Seniors' Legal Helpline is the first step to getting legal advice, information and options. If you live in Ohio and are age 60 or over, or you are calling on behalf of an Ohio senior, call 1-513-345-4160 or 1-800-488-6070.
Monthly Veterans Legal Clinic
The Veterans Justice Outreach project at Cincinnati VA Medical Center partners with Pro Seniors & Greater Cincinnati Legal Aid to offer a monthly Legal Clinic. This legal clinic is available to any veteran with any legal question for quick advice (if the attorney can assist) regarding evictions, family law, estate planning, public benefits, or consumer disputes and for referral to other legal services that can help answer their question.
The walk-in legal clinic is offered on the 2nd Monday of each Month, from 10:00 am to 12:00 pm, at the Cincinnati VA Medical Center. 
Veterans Justice Outreach at VA Medical Center
Hamilton County and All Southeastern Indiana Counties: 513-310-8266
Hamilton County and City of Hamilton: 513-448-6700
Butler County: 513-265-1316
Warren County, Clermont County and Brown County: 513-978-3081
All Northern Kentucky Counties:  513-266-1733