Gone. Not Forgotten.
December 29, 2022

|

By Mary Day

|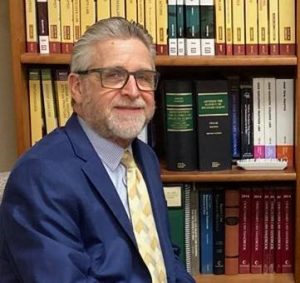 With heavy hearts we share the devastating news that Bob Vines, Managing Ombudsman, passed away on Thursday, December 22, at the age of 60. As his colleagues and friends, we are still absorbing this deep loss. Our thoughts are with Bob's family, especially his daughters and grandchildren who were the center of his universe.
Bob was passionate about his work and was, in his words, a champion for "the widows and orphans" he felt called to serve. He was a deep thinker with a warm heart and formed meaningful connections with ease. His unique and reliable humor helped him (and all of us) deal with the challenges of life and work. We choose to honor Bob by carrying on the work that he loved with dedication, kindness, and humor.
Bob was dedicated to obtaining dignity and justice for the vulnerable. If you didn't know Bob, you may be fooled by his "Columbo" act, with his subtle approach to pointing out a wrong and revealing a resolution in favor of a resident. Bob's understanding of regulations and rights, and his previous experience in activities, admissions and nursing home administration, informed his expectations of how issues could be resolved. Bob joined Pro Seniors in 2000 as a staff ombudsman. He maintained a regular presence for residents living in the long-term care communities assigned to him, getting to know the residents and staff so that he could empower residents to express their concerns and advocate for improvements. Early in his ombudsman career, Bob worked closely with Pro Seniors' attorneys to expand his skills for representing residents at hearings to appeal involuntary discharges from their nursing homes. Bob was also passionate about building and supporting family councils to advocate for quality care and quality of life in these communities. In 2014 he brought these and other skills to his leadership as Managing Ombudsman, while also learning from every member of his team. Bob also became a resource for local media to understand and report the issues people were facing in long-term care, especially during the COVID-19 pandemic. 
Although Bob graduated from Bowling Green State University, no one could doubt his allegiance to THE Ohio State Buckeyes. He was intrigued by history and what it could teach us. In 2021 Bob shared photos that documented his travel by train across America, something he'd been planning for a while. More recently he enjoyed family vacations to the beach and took a haunted Ohio tour.
We've lost "a fine, upstanding human being", as Bob would say.  We miss you, Bob! 
***
Visitation will be held Friday, January 6, 2023 from 11:00 AM to 1:00 PM at Tobias Funeral Home – Far Hills Chapel, 5471 Far Hills Ave, Dayton, Ohio 45429. A funeral service will occur Friday, January 6, 2023 at 1:00 PM, 5471 Far Hills Ave, Dayton, Ohio 45429. A burial will occur at Calvary Cemetery.
Expressions of sympathy for the Vines family may be shared at www.tobias-funeral.com. 
If you'd like to make a gift to Pro Seniors in memory of Bob Vines, please use this link or mail your gift to
Pro Seniors, Inc.
7162 Reading Road, Suite 1150
Cincinnati, OH  45237