Tom Bedall is Honored as Denis Murphy Award Winner
November 03, 2017

|

By Mary Day

|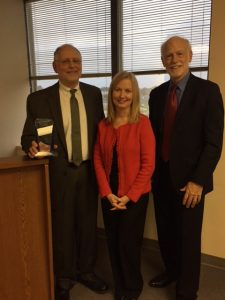 Attorney John Pinney of Graydon, on behalf of the Ohio Legal Assistance Foundation, presented The Denis Murphy Award to Tom Bedall at a reception on Thursday, November 2, 2017.  The Denis Murphy Award was created in 1998 in honor of Denis J. Murphy, the Foundation's founding board president, and is given annually to recognize outstanding leadership and advocacy within Ohio's legal aid societies.
Mr. Pinney shared details of Tom's legal career and his dedication to helping low-income Ohioans.  Tom came to Pro Seniors in 1993 and was appointed the managing attorney just four years later.  He has practiced before all levels of Ohio courts including several appearances before the Ohio Supreme Court, as well as litigating federal class actions and appeals.
Tom has also been a leader in the realm of technology in helping all of Ohio's legal aids.  He is considered an expert in Crystal Reports, and he has been incredibly generous in sharing his knowledge and successes in making Pro Seniors more efficient by providing presentations in-person and online.  He created training materials for a step-by-step introductory training on Crystal Reports.  He shows how to generate reports for pro bono, case management, funders, and outcome metrics using any case management system.  He helps legal aids integrate quality reporting into an overall service delivery model so that, with limited funds, these nonprofits can measure program successes in a timelier manner and react to changing client needs as well as save staff time by routinizing repetitive tasks.
Pinney showed that Tom is a brilliant attorney and IT manager who has been committed to bettering the lives of seniors in Ohio, especially those who are economically disadvantaged.  Tom truly exemplifies the ideals of the Denis Murphy Award.
In accepting the award, Tom shared that he was working for a legal aid, when they purchased a huge, new computer that none of them really knew how to use, so he took the manual home over the weekend and read it.  That is how he became involved in technology work.