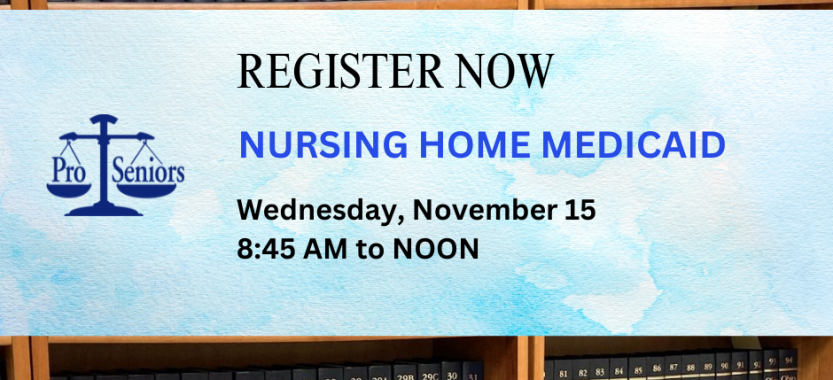 Registration Now Closed – 2023 Medicaid Update
October 24, 2023

|

By Mary Day

|
REGISTRATION IS NOW CLOSED:
2023 Institutional Medicaid Update seminar
Registration is now closed for our November 15th seminar at Spring Grove Funeral Home Event Center.
When:  November 15,  2023  – 8:45AM – noon.
Pro Seniors' Managing Attorney Miriam Sheline and Staff Attorney Matthew Barnes will provide updates to Institutional Medicaid, including
·

    
Introduction to Institutional Medicaid
·

    
Income eligibility
·

    
Qualified Income Trusts
·

    
Patient Liability
·

    
Unpaid Past Medical Expenses (UPME)
·

    
Monthly Income Allowance (MIA)
·

    
Treatment of Resources, Resource Assessment & Allocation, Transfer of Resources
and much more!
CE Credit:  Approved for 3.0 hours Continuing Legal Education credit & Social Worker CE credit
Registration Fee:  $30
Includes CE credit, continental breakfast, free parking.
Pay online when you register, or mail your check payable to Pro Seniors, to 7162 Reading Road, Suite 1150, Cincinnati, OH 45237.
For questions, contact Katie at events@proseniors.org or 513-458-5505.
NOTE: If you are completing the online registration for more than one person from your organization, please adjust the fee to reflect the number of people for whom you are registering. Then, email the registrants' names as they appear on their social work or nursing license, along with their license numbers to Katie at events@proseniors.org.