Pro Seniors Honored as OSHIIP Partner of the Year
May 04, 2016

|

By Mary Day

|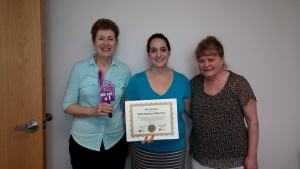 This May, the Ohio Senior Health Insurance Information Program (OSHIIP) honored Pro Seniors as their 2015 Partner of the Year.
Since 2002, Ohio SMP has had a strong relationship with OSHIIP, who provides free health insurance information and services for people with Medicare. They help seniors determine if they are eligible for Medicare, what coverage options they have and how to enroll.
While OSHIIP educates seniors about Medicare, Ohio SMP provides information about how to stay safe from Medicare scams. The two programs complement each other and working together has helped both organizations.
Ohio SMP Project Manager Anne Fredrickson was "surprised and delighted" by the award.