Join Ohio SMP as a Volunteer Peer Educator
"All too often I read about exploitation of the elderly in the news.  Makes me angry.  And volunteering for SMP (and OSHIIP) is just my way of helping."
~Ron, Ohio SMP Volunteer/Peer Educator
At the heart of Ohio Senior Medicare Patrol (SMP) are volunteers/peer educators who educate groups of older Americans about illegitimate Medicare practices by presenting information to groups or by distributing literature at senior/health fairs.
As events begin to open again, our fully vaccinated staff are respecting COVID-19 safety precautions at open-air events while some of our peer educators continue to provide presentations virtually with people they know from their own faith communities, retiree organizations, social groups, family, and others.  Now that some in-person gathering is again a safe option, our peer educators will again be offering presentations and staffing an information table at a health fair in your community.  Maybe that peer educator is you!  See how fun it is by watching this video of our peer educators in action!

As a volunteer peer educator, you will build your knowledge of the basics of Medicare and learn about health care fraud, and you will be equipped to inform others of how to recognize and avoid fraud and scams.  If you can't volunteer right now, take a look at other ways you can support Pro Seniors.
Ohio SMP has had a long-term collaboration with Ohio Senior Health Insurance Information Program (OSHIIP). We also have strong ties to the Ohio Attorney General's Office so that both organizations can work to strengthen each other's efforts to reduce the number of scams aimed at seniors.
Please contact us about scheduling a presentation for your group – virtually, or in person.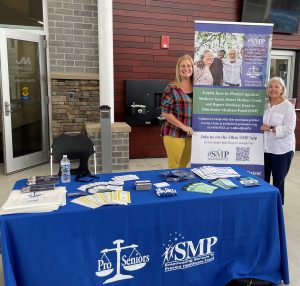 Any Ohioan interested in volunteering as a peer educator may contact Jenni at 513-458-5522 / 1-800-488-6070, Option 4, or complete the following form:
Yes, I want to help protect seniors!