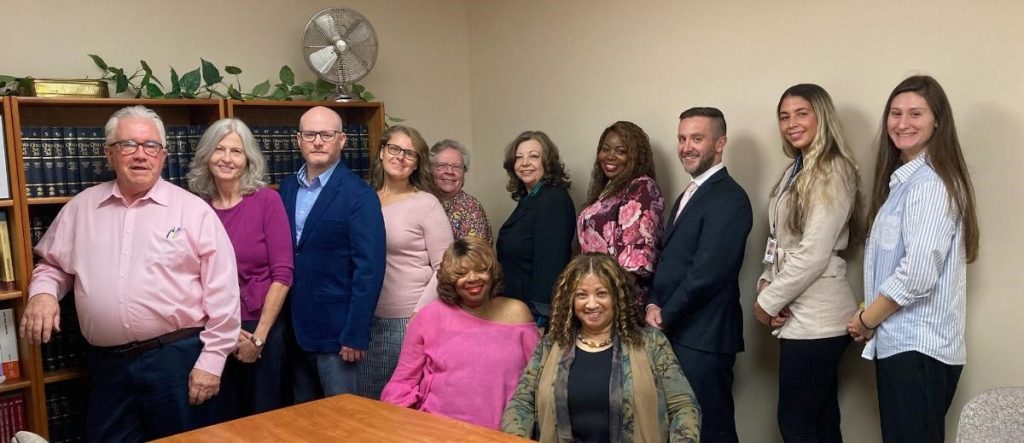 Pro Seniors' long-term care ombudsmen are advocates who ensure that people are being treated with respect in their long-term care situation. With the client's permission, we handle complaints about long-term care services and act as a go-between, voicing the needs and concerns of the clients to nursing homes, home health agencies, and other providers of long-term care.
Pictured: Bob Schmidt, Linda Kerdolff, Nick Stockburger, Shannon Bryant, Donna Wisowaty, Susan Bell, Carolyn King, Eric Carpenter, Dania M. (intern), Mary A. (intern), seated: LeVon Pressley, Carla Mason.  Not pictured: staff: Deb Redell, Marvin Wilson; Interns: Morgan K., Morgan B.
As established and authorized by the Older Americans Act and Ohio law, the mission of the long-term care ombudsman program is to seek resolution of problems and advocate for the rights of home care consumers and residents of long-term care facilities with the goal of enhancing the quality of life and care of people using these long-term services and supports.  This work is supported by the United Way of Greater Cincinnati.
"[Our ombudsman] did his homework on the law, interviewed the patient and family and was very well prepared to interact with a needlessly hostile administration.  He advocated at the highest level for a person who could not advocate for himself."   ~Alan, thank you letter
What if I live outside your area?
Pro Seniors' Long-Term Care Ombudsman service area includes Butler, Clermont, Clinton, Hamilton, and Warren counties in Southwest Ohio.  If you are an Ohio resident outside of these counties, please see this listing.  If you don't live in Ohio, please see this listing.
When You Need to Choose Care & Services
Ombudsmen link people to services or agencies to support productive, fulfilling lives.  When more services are needed, the ombudsman can help with this complex and often emotional selection process.  Whether you are choosing a care provider for the first time, or moving from a facility where you currently live, the ombudsman can help you recognize and exercise your rights during the process.
Long-term care ombudsmen can help you understand the process of selecting long-term care and provide information about related benefits and insurance.  The ombudsman will also help you learn what you need to know to get quality care from the provider you choose
Ombudsman Helpline: 513-458-5518 or helpline@proseniors.org (please put Helpline as the subject)
Understand & Protect Your Rights
In a nursing home or residential care facility (assisted living), you have the same rights you've always had.  For example, you have the right to privacy, the right to choose your care and treatment, and the right to know your medical condition. You can learn about these rights from our ombudsman staff, interns and volunteers, on our YouTube channel  also available in Spanish.
You also have the right to leave, and the right to stay.  Read your rights regarding an involuntary discharge from a nursing home and see how nursing homes can avoid involuntary discharges.
If your rights are being disrespected or ignored in any way, please call the Ombudsman Helpline at 513-458-5518, or email helpline@proseniors.org and put "Helpline" as the subject.