Who does Pro Seniors help with your gift?
Founded in 1975, Pro Seniors champions the rights, dignity and access to justice of older Ohioan's – like  Bob – by providing the following services at no cost to our clients: 
If you live in a nursing home, assisted living community, adult care home, or you're using community-based services, a long-term care ombudsman can explain your rights and help you advocate for what you want.
Maureen and her husband Gene have bee

n together since high school.

When Gene fell in their assisted living apartment and broke his hip, he needed surgery. While he was in the hospital, he tested positive for Covid-19. Although there are over 100 local nursing homes, when he was ready for rehabilitation after surgery, the hospital only gave Gene one nursing home option. The option he was offered is not highly rated for rehabilitation services and is quite a distance from their home. Gene and Maureen wanted more choices.
A family friend advised them to call Pro Seniors. The ombudsman at Pro Seniors worked with Gene, Maureen and the hospital to identify a nursing home that had more appropriate rehabilitation services and is closer to their home. The ombudsman also advocated for repeated Covid-19 testing. Fortunately, Gene tested negative for the Covid-19 infection by the time he was ready to leave the hospital. He was able to go to the nursing home closer to their home for rehabilitation, and then to return to their assisted living apartment.
If you live in Ohio, and you're age 60 or over, you may call Pro Seniors Legal Helpline for information and advice on any legal issue. If you live in southwest Ohio, a staff attorney at Pro Seniors may be able to help you resolve the issue.
Bob got a letter about life insurance proceeds intended for him, and telling him to supply some documents.  He wasn't sure the letter was real or what documents they wanted, so he called Pro Seniors.  Pro Seniors attorney Karen helped Bob understand the request and obtain the documents he needed to prove that he was owed these funds.  In this photo, Bob is wrapping up the case with Karen, who helped Bob receive the funds from the life insurance policy that was intended for him.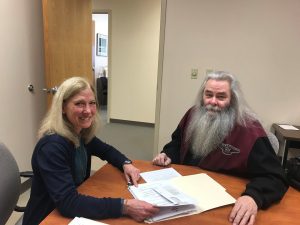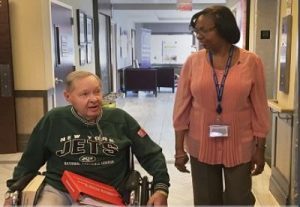 Certified Ombudsman volunteers visit with  residents in nursing home and assisted living communities, talking about the ombudsman role, residents' rights, and responding to questions and concerns.  
You can make a difference with your gift of time, talent or treasure.
We offer our ombudsman training for new volunteer candidates in person or as a series of online webinars, so that more volunteers are equipped to reach out to residents and families.  Please contact Nick at OmbVol@proseniors.org or 513-458-5514 or sign up online.
Your gift helps make dignity and respect ageless!

Privacy & confidentiality are important to us. We do not share or sell your contact information with anyone. We use the information you provide only to fulfill your request or gift in honor or memory of a loved one. 
Pro Seniors meets all 20 BBB Standards for Charity Accountability, meaning our organization is an Accredited Charity!   You may also review our BBB Charity Report.