Can You Spot a Scammer?
March 10, 2022

|

By Mary Day

|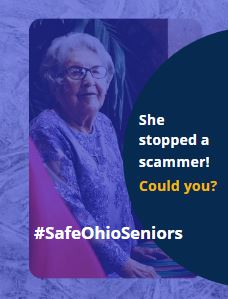 "Lois" enjoys using social media to connect with the friends she and her husband made around the world during his military career.  She's also made some new friends online. Recently, her friend "Nick" has had some trouble. Nick told Lois that, while traveling for work, his bank account has been frozen due to suspicious activity. Nick asked Lois to take out a loan to deposit in her account, and he would arrange to pay her back.
Lois recognized that any request from someone she only knows on social media, asking for money, is a RED FLAG. Lois discussed the issue with her family, worked with her bank, and reported the activity to the Office of the Ohio Attorney General, who also encouraged her to contact Pro Seniors.
Like "Lois", we can all put in place important legal documents – financial and healthcare Power of Attorney – to define our instructions and who is authorized to make decisions and take other actions, and under what circumstances. If you're considering having someone help you with managing your bills and related activities, this "Managing Someone Else's Money" publication from the Consumer Financial Protection Bureau is a good resource.
If you want to know more about establishing Power of Attorney documents, if you suspect that you are the target of financial exploitation or a scam, or if you'd like to learn more about protecting Ohio seniors, contact Pro Seniors. Anyone age 60 or over and living in Ohio – or calling on their behalf – may call for a no-cost phone appointment with a Legal Helpline attorney:  513-345-4160.
Pro Seniors' work on the Safe Ohio Seniors project to prevent senior financial exploitation is supported by a grant from the Ohio State Bar Foundation.